Admit.me is committed to making the admissions process easier. While applicants have been hard at work studying for the GMAT/GRE and adjusting to this new, altered reality, we've been hard at work (from home!) following through on our vision to digitize the admissions consulting experience and granting all applicants access to quality admissions help.
We are ecstatic to announce a new release of Admit.me, stocked with handy new features that offer the same kind of insights formerly available to only the highest-paying applicants.
Here are three key features included in this new release:
1. The first-ever admissions score for MBA applicants.
Applicants have very little visibility into how schools will perceive their profile. With just three data points to rely on — test scores, GPA, and school rankings — an applicant's ability to self-assess is limited. Applicants struggle to identify which schools are a good fit, which leads them to either wind-up at a school they were too good for or over-reach and not get in anywhere.
Until now.
Our new Admit.me Index, a.k.a. AMI, gives applicants a holistic view of their applicant profile in a single, quantitative score. Holistic and quantitative? How is that possible?
AMI is holistic because it takes into account over 30 data points across your professional, academic, and extracurricular experience. Our admissions experts teamed up with our engineers to turn their years of experience (we won't embarrass them by publicizing how many) assessing candidates into a proprietary algorithm. And yes, you guessed it — that's the quantitative part.
Your AMI gives you an overall assessment of your applicant profile in a way a test score or GPA never could. Much like a credit score for MBA admissions, the higher you score, the more likely you are to get accepted.
2. Identify safety, target, and stretch schools — no guessing required.
Applicants aren't the only ones who get an AMI — school's have them, too. The combination of an applicant's AMI and a school's AMI allows us to provide enhanced school matching.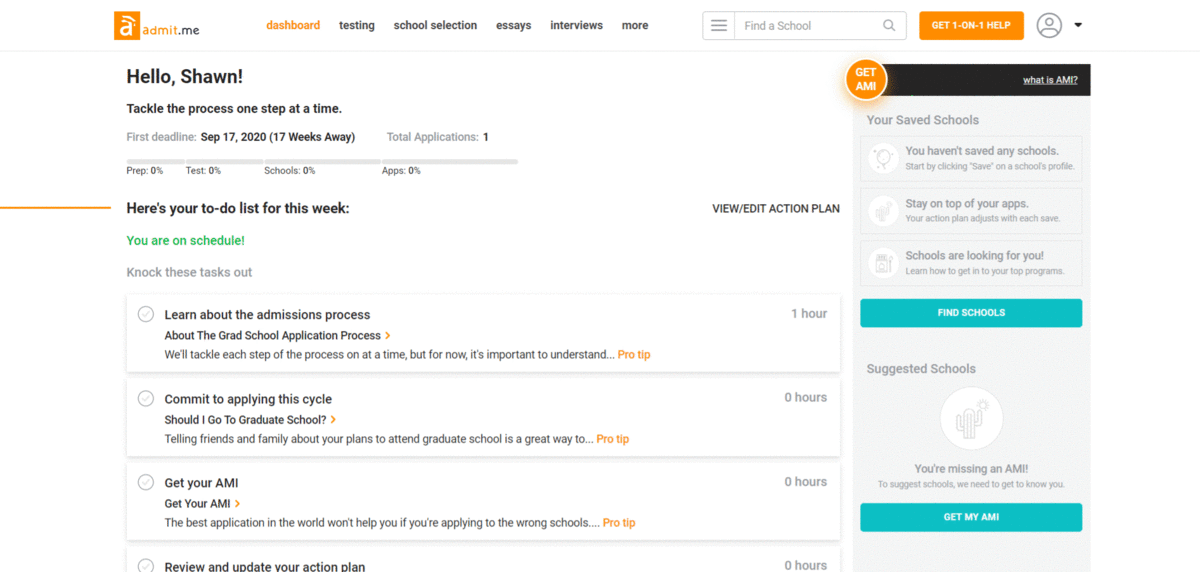 By comparing your AMI to that of a school, Admit.me provides insights into your likelihood of acceptance to any given school. A school's AMI is based on the average accepted student to that school. This comparison powers Admit.me's ability to categorize schools into "stretch", "safety," and "target." If your AMI is the same as that of a school's, that means you fit its average accepted applicant profile — it's a "target." If your AMI is below, that doesn't mean you won't get in; remember, an average means some accepted students were lower and some were higher.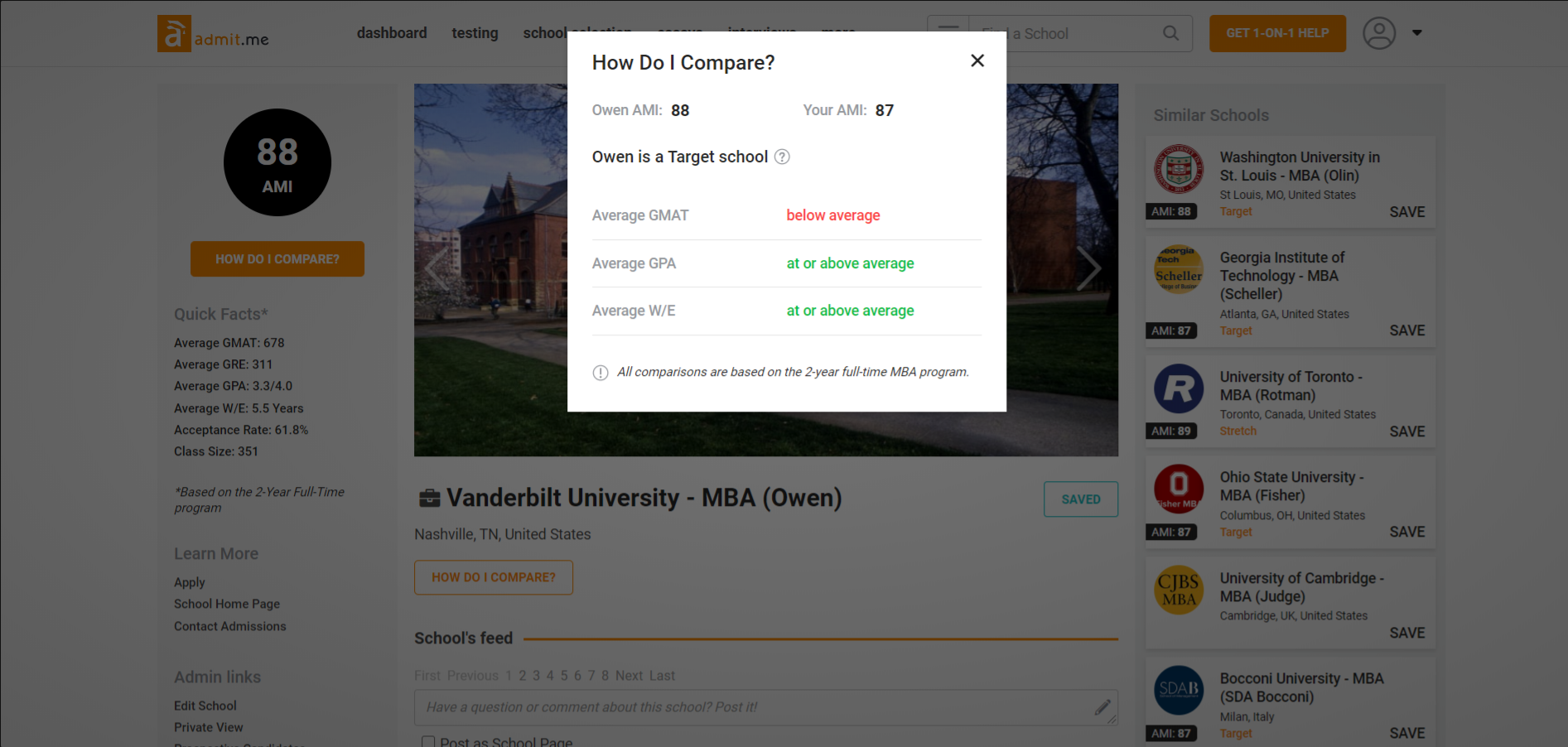 Having an accurate understanding of your chances of acceptance to the schools on your target list is key to a successful application process. And now that has never been easier.
3. Tackle the admissions process one week at a time.
The admissions process is overwhelming. Many applicants struggle to stay on track or to even start. To help applicants overcome analysis paralysis, we've developed a dynamic task list that guides applicants on what they should be working on at any given time. The backbone of your weekly task list is your Action Plan.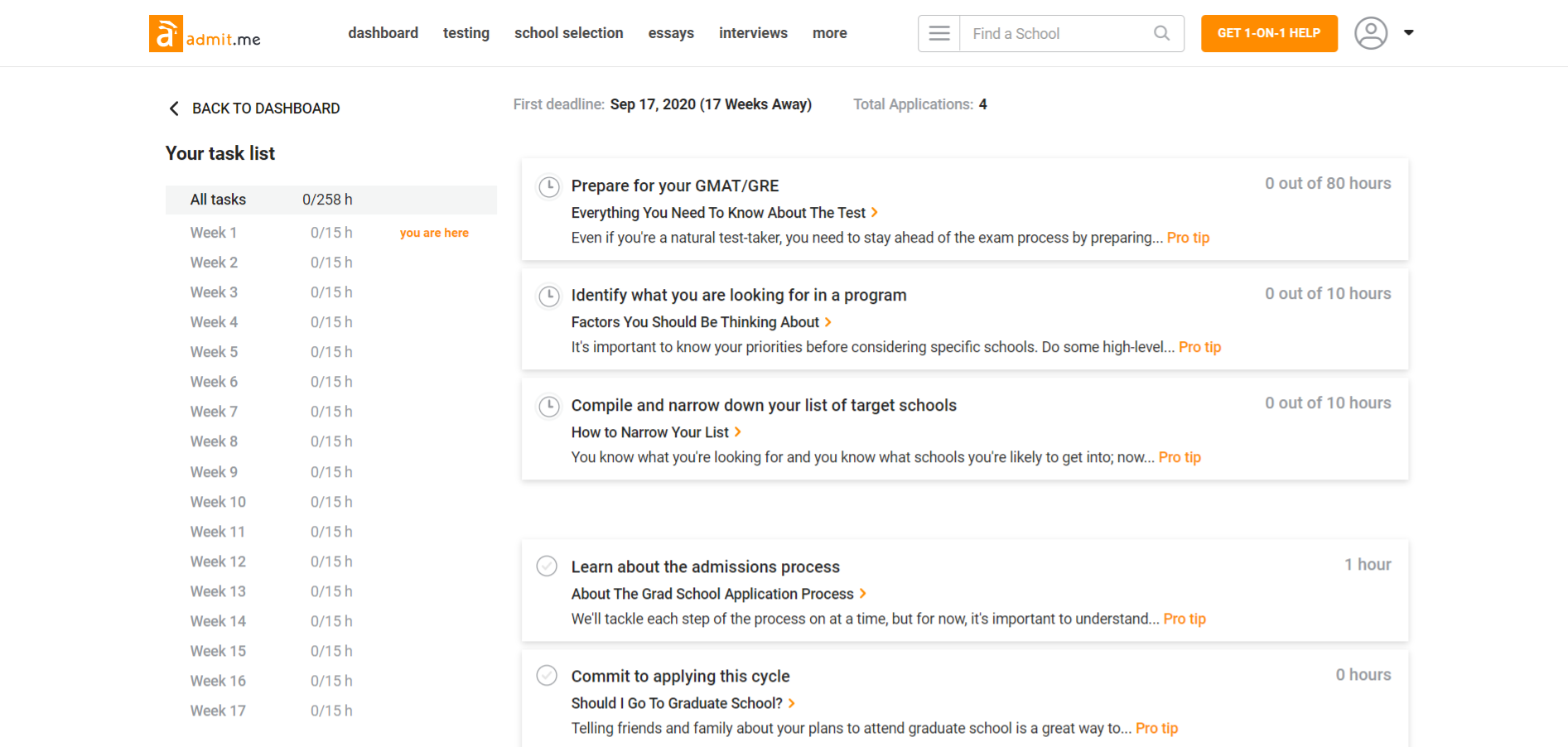 Your Action Plan follows a proven process used by our admissions coaches to land their clients in top schools. It covers the admissions process from deciding to apply all the way through pressing that intimidating submit button. It breaks up the admissions process into bite-sized, actionable tasks such that each week, you'll have a concrete list of tasks to accomplish. Your Action Plan allows you to review your process as a whole, while your task list makes it so you'll know exactly what to work on each week without ever having to make your own schedule. It accommodates the deadlines of your target schools and will update based on what you have left to do and how much time you have left to do it.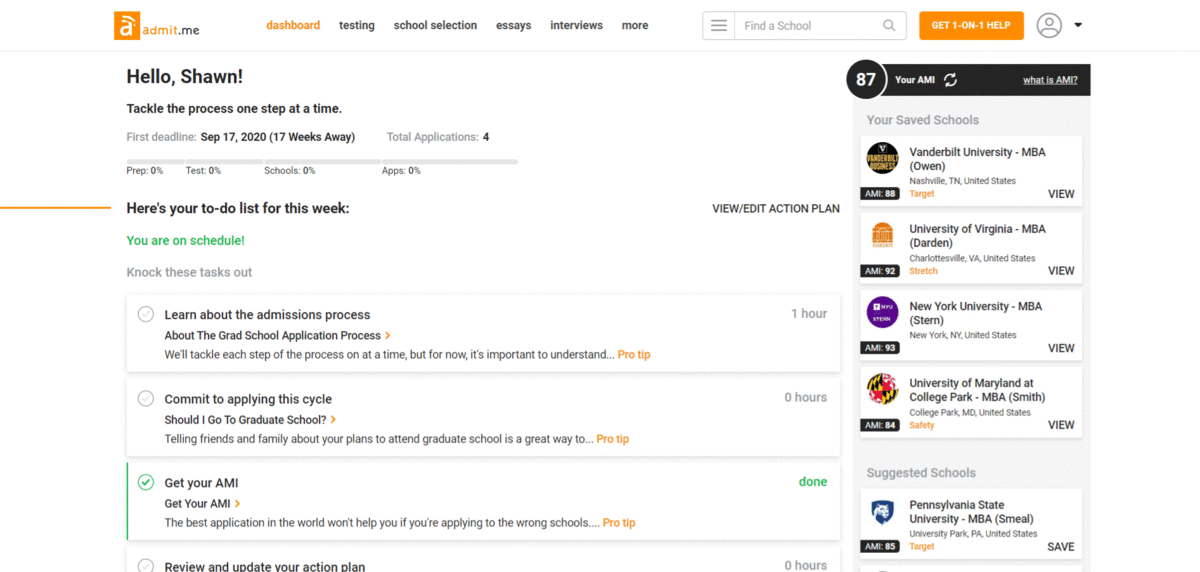 The icing on the cake: each task is accompanied by expert advice on how to tackle it. Not only do you get the benefit of structure, but you also gain access to the experts' secret recipe.
Login or create an account to see these updates in action, and let us know what you think! We are constantly improving the ways we support applicants and rely on feedback from you to do it right!