Why You Should Get an MBA at Tuck: Part II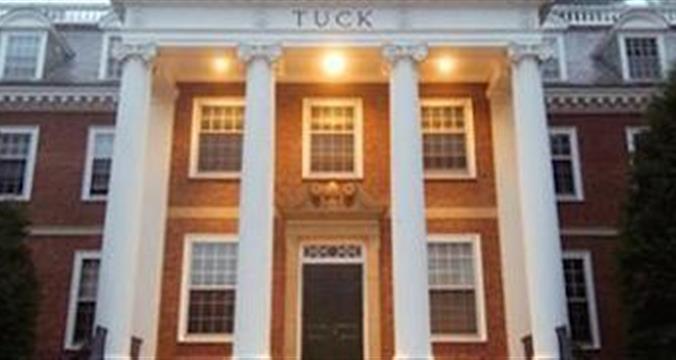 This post was written by our friends at tuck.dartmouth.edu
People pursue an MBA to enhance their career or switch careers.  So as careers go…why Tuck?
It comes down to our scale relative to our peers and, again, to access—access to incredible resources dedicated to helping you in your career search. And access to recruiters from the world's top companies.  Tuck has fewer than 300 students per class competing for interview slots and networking opportunities. At other top schools, that number can grow to as many as 900. Tuck is a place where you can stand out during your job search. 

Some applicants worry about Tuck's location and the impact it has on recruiting. But these are, in reality, great strengths. Tuck has deep and longstanding relationships with the world's most prestigious recruiters of MBA talent. The best part: our students have incredibly personal access to them. While they're here, they're a captive audience: they stay all day, have dinner here, interact with students during office hours.

Furthermore, Tuck's career counselors are industry specialists with direct industry experience. And many are MBAs themselves, so they know exactly what you are going through because they have been there themselves. Our scale ensures that they will get to know you personally and work closely with you on your career search.

Especially beneficial to career switchers, Tuck offers a bidding process, through which at least half of all company interview slots are available to students (the other half of the interview schedule is filled with candidates selected by the company). This allows students with non-traditional backgrounds to get a foot in the door.
Several times, we've mentioned Tuck's small size.  How does this play out in the alumni network?

The alumni's enthusiasm—for Tuck and for each other—is unrivaled and is part of what makes our community so unique. There's no better measure of this than annual giving. Tuck's annual giving rate has exceeded 70 percent for several years in a row, nearly triple the average participation rate of other top business schools. This shows just how satisfied our alumni are in their Tuck experience and how deeply committed they are to ensuring others share in such a transformative experience.

Tuck alums are personally involved and accessible to our students. You can always count on them to return your call and provide extensive help when needed. This kind of responsiveness takes some students by surprise, and we constantly hear students express their gratitude for the generosity of our alumni.

As far as the size of our alumni network, Tuck is definitely smaller than peer schools.  In the 2014 Economist ranking of our alumni network, we were #91 in size.  We were also #1 in terms of effectiveness.
ICYMI: Why You Should Get an MBA at Tuck: Part I 
Join Senior Associate Director of Admissions Pat Harrison for a webinar on Beat the GMAT
to learn more about Tuck through the experiences of three recent graduates on 
Tuesday, November 17 from 12-1pm ET. 
Last Updated June 13, 2018