The college debt crisis is even worse than you think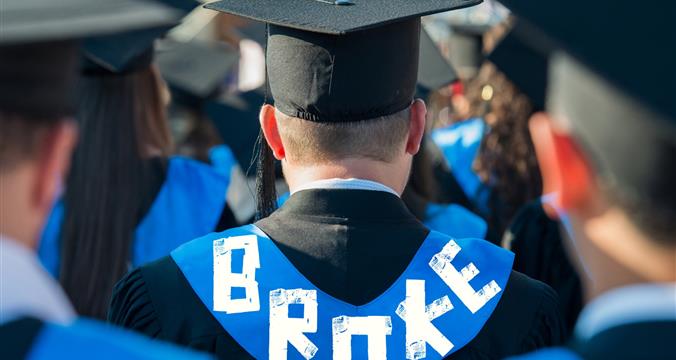 This post was written by our friends at bostonglobe.com
We tell students they need a bachelor's degree to get ahead. But for too many, the numbers no longer add up.
IT'S ONE OF THE MOST enduring selling points for the value of higher education: The best route out of poverty is through the college quad. Spend four years in college, and all that book learning, mind opening, and network expanding will help even the lowest-income student jump up several rungs on the economic ladder. Nowhere is that message preached as often or with as much evident authority as in Massachusetts, the nation's historic capital of private, nonprofit higher education, where the concentration of colleges in some areas is surpassed only by the number of Dunkin' Donuts franchises.
But just how true is this truism about college lifting low-income students out of their circumstances, Horatio Alger style? In fact, like the actual story of author Horatio Alger, who was born into a well-established family and graduated from Harvard, there's more myth than truth. That's been especially so in recent years, as nonselective private colleges from around the region have increasingly filled their freshman classes with low-income students — often the first generation in their families to go to college — from Boston and other urban areas. Quite a few of these small schools are former junior colleges and women's colleges with rich histories of opening doors to students traditionally shut out from higher education, an admirable pursuit that officials refer to as "access." Many of the colleges are also in tough financial straits, struggling with rising costs, stunted endowments, and declining enrollments.
So whether they are actively recruiting these low-income students for reasons of open-the-door altruism or keep-the-lights-on capitalism — or, more likely, some combination of the two — there has been a huge, largely hidden byproduct of this dramatic increase in access: These students are often being loaded up with staggering debt that is completely out of whack with the earnings boost they'll likely get from a degree at a nonselective or less selective college. Already, average student loan debt is higher in Boston than any other metro area in the country, 44 percent above the national average, according to Credit Karma. But more troubling, many of these low-income students — and, at some colleges, most of them — are not graduating. That means these non-completers are leaving campus saddled with lots of debt but none of the salary gains that traditionally come with a bachelor's degree.

Last Updated November 22, 2018