School Celebrates Courtroom Renovation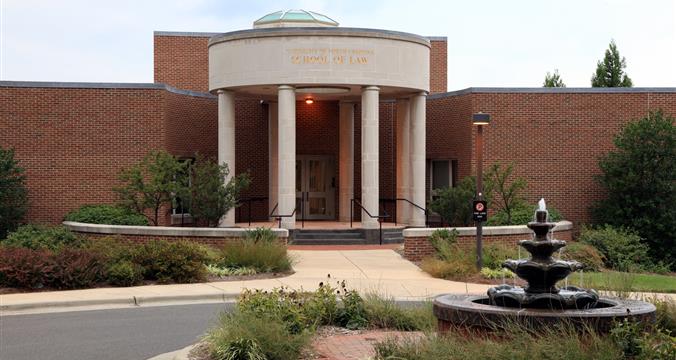 This post was written by our friends at law.unc.edu
Students, faculty and staff gathered in a newly renovated Graham Kenan Courtroom on Sept. 25 to celebrate the reopening and learn about the cutting-edge technology the space now features.
"Our courtroom was ready for an overhaul, not only to be compliant with the American Disabilities Act but to reflect trial practice in a digital age," UNC School of Law Dean John Charles "Jack" Boger '74 said at the reception. "We want our students to hone their litigation skills in an environment that mimics the most high-tech courtrooms they might encounter in their practice."
During summer break, the courtroom was gutted and completely rebuilt to modern standards. Practicing judges and a nationally renowned courtroom design specialist were consulted. The courtroom opened its doors for Trial Advocacy courses in late August, and students and faculty have praised its design and technology.
Generations of Carolina lawyers practiced in the Graham Kenan Courtroom, which was built in 1968. At that time the courtroom was state-of-the-art, but over the course of decades it became outdated and by 2014 was due for a change.
"So much of what comes into the courtroom now comes from cell phones and dash cams. It includes PowerPoint presentations and computer animations," Richard E. Myers '98, Henry Brandis Distinguished Professor of Law and faculty advisor for the Broun National Trial Team, says. "All those things require 21st century technology that allows information to be projected to the judge, to the jury and to be made available to counsel."
At the September reception, Assistant Dean for Information Technology Doug Edmunds illustrated some of the courtroom's new amenities:
Flat-screen monitors throughout the jury box, and at the attorneys' tables, witness stand and judge's bench
Two touch panels for the presenting attorney to present electronic evidence
The ability to do onscreen annotation at the podium, witness stand or judge's bench
A pivoting lectern to transition from courtroom to classroom mode
-October 9, 2014
Last Updated November 22, 2018