My recruiting experience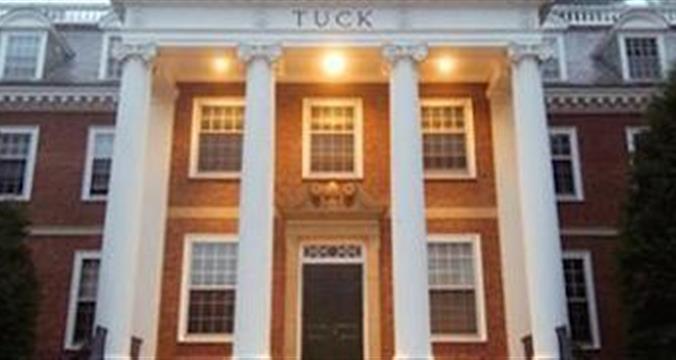 This post was written by our friends at tuck.dartmouth.edu
By Eliana Gomez Aristizabal T'16
Eliana is an industrial engineer from Cali, Colombia. Before coming to Tuck, she worked in marketing with consumer products and pharmaceuticals. She loves books, movies, traveling, and soccer. In Hanover, she has fallen in love with the Upper Valley. She enjoys the farmers' markets and beautiful trails and hikes during fall, and in the winter she is learning to ski and play ice hockey.
My whole life I have always found new experiences and learning new things fascinating. I had difficulty choosing an undergraduate major because I liked so many different things. I finally decided on industrial engineering because I felt that it covered a good range of areas within businesses. Then, after working in marketing for a couple of years, I came to Tuck looking for new career opportunities.
When I was accepted to Tuck, I applied to some pre-MBA programs with consulting companies, and I was very lucky to be invited to Bain's Diversity Pre-MBA program last summer. It was my first look into consulting and it offered exposure to different businesses and industries that had always interested me. Now, seven months later, I am happy to say that I will be joining Bain's New York office over the summer.
When recruiting started, and Tuck's Career Development Office (CDO) presented us with different possibilities, I decided to focus on consulting, as well as some specific general management programs that I found very interesting. Soon I realized that the opportunities I was pursuing were very competitive. As an international, and with English being a second language, I was aware that I needed a lot of preparation to get an internship in the U.S. Fortunately, Tuck offered many resources to help me prepare, and that made all the difference.
The CDO was very helpful in organizing workshops to guide us through the networking and application processes. Because I lack previous experience in the U.S. job market, I appreciated having specific workshops for every step of the process. From networking, to resumes and cover letters, and—when the time came—one on one mock interviews. I think I really needed the guidance, and it was great having it available. It was wonderful knowing that if I had any doubts, I could just drop by the office of anyone from the CDO, and they knew me and my case and could easily coach me through it.
Another unexpected resource that I found extremely helpful were other Tuckies. From my first year classmates, to second years and alumni, the way that everyone is willing to help each other is amazing. I will never forget when we were going through the resume and cover letter drops, and many first years, who were working on their own applications as well, offered to proofread others' resumes and cover letters. Personally, I received great advice and feedback during this process.
The second years have been great. They made themselves available to help us practice for our interviews and gave us very good advice. In the case of consulting, where we had to prepare for case interviews, the possibility of having someone who has been through the process guide you gives you an edge. Then when you case with other first years you can work on the feedback from second years, enhancing your learning experience. Moreover, alumni are very approachable. Being able to reach out to a Tuckie, regardless of his/her position, and always getting an answer is invaluable.
When the decisive moment of interviews actually came, all the help I received helped me walk into my interviews with the tools and confidence to get through them. Something that I learned from the process that I think applies to Tuck in general is how many resources we have at our disposal. It is up to us to proactively reach out and take advantage of them in order to make the most out of this experience.
(Top photo by Laura DeCapua)
Last Updated November 22, 2018