Embrace the Uncertainty: My Recruiting Experience at Tuck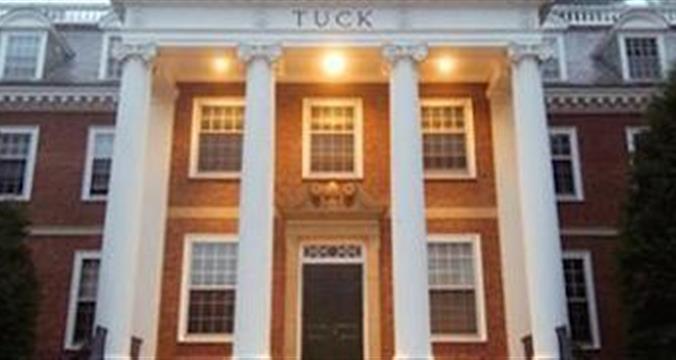 This post was written by our friends at tuck.dartmouth.edu
By Steve Harrington T'16
Steve was born and raised in Connecticut. After graduating from Lafayette College with a degree in electrical and computer engineering, he commissioned as an officer in the U.S. Army. He spent four years in the Army, including a nine-month deployment in Afghanistan, before starting at Tuck last August.
Steve accepted an internship offer from Google to work as a product manager in Mountain View for the summer. He will be joined in California by his wife-to-be Alicia (the wedding is in June!) and his yellow lab Mason.
For me, the recruiting process began before I even arrived on campus. Application essays notwithstanding, I wasn't sure exactly what I wanted to do after my MBA. So when I saw an email about a new program launched by the Tuck Career Development Office for incoming students to travel to Silicon Valley, I thought it might be something I could benefit from. It afforded me the opportunity to learn about the tech industry as a potential career, network with Tuck alums at various technology companies, and get to know some of my new classmates before orientation. Over the course of three days, we visited a host of companies and met numerous potential contacts. It was a whirlwind, but I remember feeling great about the opportunities (and fun) ahead. The visit to Google was especially exciting for me. I had the chance to eat lunch with a Tuck alum who works as a product manager there, and we hit it off pretty well as I learned about his role. It was there that I decided tech was probably the right industry and Google might be a great fit.

Key takeaways for pre-MBA:
1. If you are interested in tech, go on the Silicon Valley trek!
2. It's never too early to get started making contacts and networking.
Recruiting season started early in the fall with networking events and office hours held seemingly every day. I've never experienced anything like it. As I did it more and more, I began to get more comfortable during the events and to ask more questions in an effort to understand how I might fit in at different companies. Especially coming from the military, this chance to interact with business people was a learning opportunity that was incredibly valuable. What did I really want to do? Why? Where would it take me, and where could I see myself being happy? How would my family fit into this? As a whole, the recruiting process was surprisingly introspective. Over the course of deciding which companies to apply to, I ended up learning a lot about myself.
Key takeaways for networking:
1. Attend as many company briefings and events as you can, even companies you don't necessarily think are the right fit for you.
2. Don't be put off by the formulaic feel of the networking events—so what! Just because the setting is somewhat artificial doesn't mean you can't make a genuine connection.
3. Indulge in free food and drinks, no one judges here.
Then winter break came, and the closed-list selections for on-campus interviews were revealed. I did great! I high-fived my fiancé, bragged to my parents, tackled my brother's dog (normally it would have been my own, but I was visiting him in Alaska at the time), and generally felt awesome. But I quickly realized how much work was in front of me to prepare for all these interviews. This is where the CDO and the Tuck network really came into play. Over the next month I spent time doing case interview practice with first- and second-year students. The CDO helped me find alumni I could reach out to at various companies. The student organizations scheduled mock interviews. The product manager I had lunch with over the summer spoke with me on the phone about how to prepare for Google. I did informational interviews with recruiters I met in the fall. Then, the first interviews started and I was doing everything at the same time. Oh yeah, there are also classes.
It was a wild ride. But with the help of the resources and people at Tuck, I managed to survive recruiting season (you know, "winter") and came out with some incredible offers. I've decided to join Google for the summer as a product manager in California. It still amazes me sometimes how lucky I am to have had this opportunity, and just how much I've learned through the process.
Key takeaways for interviews:
1. Practice case interviews even if you're not recruiting with consulting firms.
2. When approaching interviews, reach out to people you've met along the way for advice and support.
3. Don't sweat the setbacks. The process is very trying and almost everyone experiences a degree of failure along the way.
I've had multiple recruiters and alumni express to me that there will never be another time in your life when there are so many open doors and diverging paths. But the good news is that there are no wrong answers and everyone seems to find what is right for them. So I would advise anyone lucky enough to find themselves participating in the recruiting process at Tuck to embrace the butterflies, sweaty palms, and uncertainty. Just don't forget to turn in your ManComm final.
Last Updated June 13, 2018