Candid Advice for a Successful Application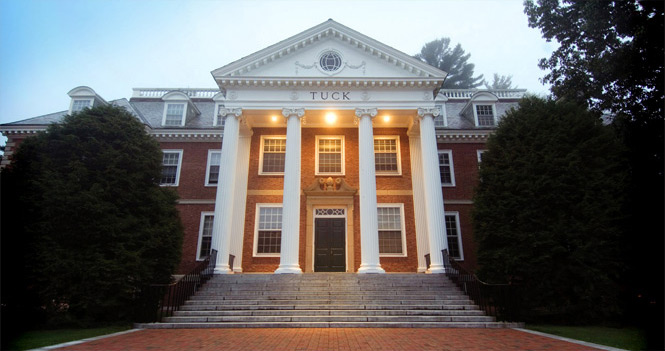 This post was written by our friends at tuck.dartmouth.edu
As aspiring MBA's, applying to business school provides a great opportunity to stretch your strategic-thinking muscle. Chances are you will apply to more than one program, and all of that application completing, essay writing and GMAT test-taking requires a plan. Here are some tips for developing a solid application strategy that will help you see the process through to the end.
First, Give yourself plenty of time – the application process is not easy and should not be rushed.  You should plan to spend some time reflecting.  What do you want from your career and your life?  Why do you need an MBA?  Why now?  Think about your strengths and weaknesses and what you have learned from your past experiences.  Doing this thinking ahead of time pays off when you start the application because you will have a better sense of your personal story, why you want to pursue an MBA, what you want out of a program, and how you will contribute.  
Next, get the GMAT out of the way.  Spend the necessary time studying for it, and then take it as soon as you can and well in advance of your application.  That way if you aren't happy with your score and need to take it again, you will have plenty of time.  Each year I have applicants who put if off until right before they are submitting their application. This can be a stumbling block because if they don't do well, they don't have enough time to retake it.

Plus, once you know your GMAT score, you will have a better sense of what schools are within your reach and what schools might be more of a stretch by comparing your score to those in the current class profile.  Tuck, like most schools, does not require a minimum GMAT score, and we accept a wide range of scores, so if you are below the average GMAT, don't write the school off.  But if your GMAT score is significantly below the school's average, you might want to think about retaking it or adjusting your list of target schools.

Once the GMAT is behind you, you can focus your energy on the next steps of finding the right school and preparing your application. This will set you up nicely for the next step: deciding which schools to apply to.

My best advice here is to do your homework to figure out which schools best meet your needs.  There are lots of ways to do this, and I caution you against just relying on the rankings.  That can be a great way to start, but there are much better ways to learn about each school.  Dig deep into school websites for information about the program.  Attend school informational events in your city. Tuck will be travelling around the world in the fall, hosting events for applicants to learn about our program and meet some of our alums.  You can also meet school representatives at various MBA fairs.  Talk to alums from as many schools as you can to learn about their experiences.  You can go to the Tuck Connections section on our website, and we will put you in touch with a Tuckie.
Finally, I really encourage you to visit the schools you are applying to.  Yes, the travel can be a little expensive, but when you put it into perspective by comparing it to the overall cost of an MBA, it is very little.  An MBA is a big investment in terms of money and time, so you want to make sure that you have picked the right school for you.  While on campus, sit in on a class and be sure to talk to the students.
As you look at schools, don't ignore your gut.  That intangible "fit" is important. Think about how you will fit into the program.  What's the culture like?  What will you contribute?  Can you see yourself actually being a part of the community?

Once you've created your short list of schools to apply to, create a timeline for yourself with all of the various deadlines for each of the schools.  It can be a lot of dates to keep track of and you don't want to miss anything.  Make sure your recommenders are aware of the deadlines too and give them plenty of time to submit your recommendation.  You do not want them to have to rush it!
In preparing your timeline, it is really important to read the application instructions for each school.  There is a lot of important information in our application instructions, but every year I hear from applicants who have missed opportunities or made mistakes that hurt their chances for admission, because they hadn't read them.  For example, some applicants aren't aware of Tuck's open interview policy and don't realize they can come to campus for an interview until it is too late.  Many applicants often miss the deadline to submit our scholarship application because they didn't read the instructions, and they later find themselves ineligible for a scholarship.  Another example is on letters of recommendation: our instructions specifically say we do not find recommendations from professors to be helpful, yet every year applicants submit recommendations from a professor, essentially wasting an opportunity to provide valuable feedback from another source.  I could go on, but you get the point.
Lastly, start getting your finances in order now - business school is expensive.  Don't be scared off by the price tag – the return on investment makes it worthwhile, and there are ways to finance your education through scholarships and student loans - BUT right now, work on your financial health. Save money.  Pay off your credit cards.  Make sure your student loans are in good shape.   Don't buy a fancy, expensive car, etc.  Loan opportunities may be better with a better credit history, and you don't want cost of attendance to limit where you can go if you really have your heart set on a particular school.
There they are--my tips for developing a successful application strategy. As you embark on your journey to applying to business school, remember that this is a big decision that requires time, planning and follow-through. Good luck and let us know if you have any questions.
Last Updated November 22, 2018