4 Must Ask Questions When Researching Business Schools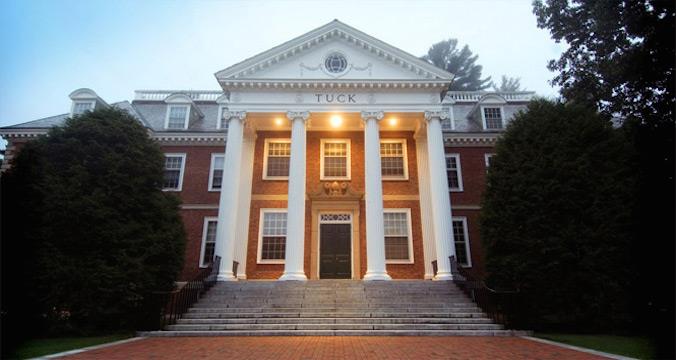 This post was written by our friends at tuck.dartmouth.edu
Last week, the Admissions Committee offered a comprehensive list to get you started on the journey to your MBA. Today, we focus specifically on researching programs and schools. This step will likely be ongoing and should not be minimized. An MBA is a big investment in terms of money and time so you want to make sure that you have picked the right school for you. While there are several programs that offer a great education, what sets them apart from one another? How do you determine the ever important topic of fit? Ask yourself the following questions to start selecting the schools and programs that are best for you.
Continue the conversation with Associate Director of Admissions Kristin Roth, on Beat the GMAT tomorrow, February 5 from 12-1pm ET for open Q&A. If you can't make it tomorrow, use this page to connect with Tuck in other ways. We look forward to getting to know you, as you get to know us!  
1. What is the class profile at the schools I am considering? Is my profile competitive for those schools? If not, are there things I can do to improve my application? If you are considering any of the top 10-15 business schools, all of them make their class profiles public. While these profiles are representative of the aggregate of an individual class, it's important to keep in mind that there are many considerations taken for each individual applicant. You have a certain amount of control of many aspects of the application (your GMAT score, who you choose as recommenders, extracurricular activities, and, to some extent, special work projects). Spend some time thinking about where you can improve your profile if you think there are areas that need some attention prior to applying.
2. I'm ready to research business school programs. Where do I start? As you embark on your search for the best MBA program for you, it's important to connect with alumni and current students at the schools you are considering. While thorough research will provide a broad understanding of the programs you are considering, learning about the experiences of alumni and students will provide an intimate look into the unique aspects for each school. It's also important to reach out to mentors, who may provide guidance on what your motivations and aspirations are pre-and-post MBA. Conversations with students, alumni and mentors often provide the grounding you will need for the long and sometimes challenging process of applying to business school.  Once you've gotten a good understanding of the schools you are considering and have started to narrow the list, it's time to schedule a visit to the schools that have made it to your "short list".
3. Do I see myself at the schools I am considering? After talking to current students and alumni, and visiting the schools that make the final cut, it's time to spend some time reflecting on whether you can see yourself at the schools you are considering. Was the campus and community a place you could live for two years? Are the students and alumni people you could identify with? Are they people you feel compelled to get to know? Did they make you feel comfortable throughout your conversations with them? Was the overall vibe of the school in keeping with your core principles and values? As you ask yourself these questions, many others will come up that will be more specific to you. Don't underestimate the importance of fit as you consider which schools to apply to.
4. What are the career statistics for the schools I am considering? (overall results, industry, location, etc.)
Last Updated November 22, 2018